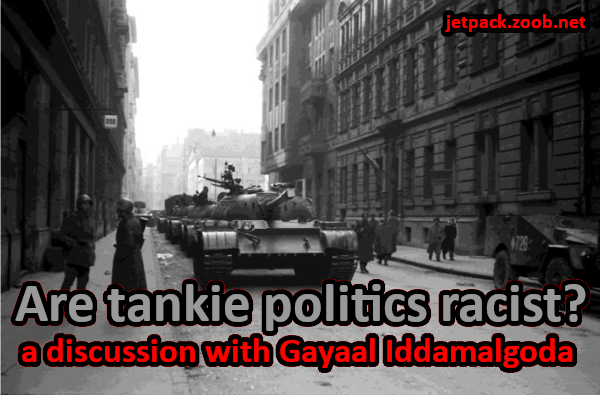 Welcome to 2021! For our first episode this year, Ani discusses tankie* politics and alternatives with returning guest Gayaal Iddamalgoda (a socialist, trade unionist, and migrant rights advocate). We touch on the history of the mass Sri Lankan Trotskyist movement, the left in the Philippines, and the Syrian Revolution among other topics – arguing that tankie politics erase the rich legacy of struggle in the majority world.
*Supporting 'actually existing socialist' states such as China and 'anti-imperialist' states such as Iran.
Edited by Lidia Grigorut.
Suggested texts:
Tankies: The Documentary (a dumpster fire deep dive), video essay on youtube by The Serfs
Blows Against the Empire: Trotskyism in Ceylon [Sri Lanka], book by Al Richardson
Britain, World War 2 & the Sama Samajists, pamphlet edited by Wesley S Muthiah and Sydney Wanasinghe
"First as tragedy, second as farce": Marcos, Duterte and the Communist Parties of the Philippines, video essay on youtube by Dr Joseph Scalice
With arms, for the people [on Philippines group], article on International Viewpoints website by Daniel Princen
Philippines socialists' long march, article on Socialist Resistance website by Daniel Princen
China's Rise: Strength and Fragility, book by Au Loong-Yu
What Is Holding Back the Formation of a Global Prison Abolitionist Movement to Fight COVID-19 and Capitalism? article on Spectre Magazine by Frieda Afary and Lara Al-Kateb
Burning Country: Syrians in Revolution and War, book by Leila al-Shami and Robin Yassin-Kassab (reviewed by Ani here)
The Impossible Revolution: Making Sense of the Syrian Tragedy, book by Yassin al-Haj Saleh (reviewed by Ani here)
Regime preservation: How US policy facilitated Assad's victory, article by Michael Karadjis on his personal blog
"All the world will be affected, not just Syria": Interview with Syrian-Australian artist Miream Salameh, article on Fightback website by Ani
Syrian Revolution and Counter-Revolution: An interview with Swiss-Syrian academic Joseph Daher, previous episode of Where's My Jetpack
Music:
Where's My Jetpack, by Hotel Free Babylon
Noir Jazz Playlist, music by Ken MacLeod/playlist by MrSnooze
This work is licensed under a Creative Commons Attribution-NonCommercial 4.0 International License.
If you can, please support our work financially at patreon.com/jetpack1917